RACE APPROVED FOR 1 CE CREDIT
Live Webinar: GI Parasitology: Utilizing the KeyScreen™ GI Parasite PCR Panel for Enhanced Diagnostic Screening and Improved Standards of Care
This session reviews the current challenges in veterinary medicine to decrease the prevalence of gastrointestinal parasites in small animal medicine. Dr. Lopez will cover current diagnostic methodologies utilized in veterinary parasitology, including the benefits and limitations of each methodology for the diagnosis of common gastrointestinal parasites in small animals. You will learn about scientific advances in GI PCR, current applications for comprehensive GI parasite screening, the diagnosis of benzimidazole-resistant hookworms, and the diagnosis of potentially zoonotic assemblages of Giardia duodenalis. We will also cover the clinical relevance, infectivity, treatment, and retesting recommendations for the most common nematode and protozoal gastrointestinal parasites diagnosed in small animal patients.
Speaker Bio
Dr. Lopez started her veterinary career as a technician at the University of Florida in the dermatology department. She worked in dermatology's clinical and research departments, the ICU, and their blood donor ward. She worked closely on clinical trials with their in-house high

IgE

research beagles, where she was a part of developing the model for atopic dermatitis. Her passion grew for clinical research and skin disease. Dr. Lopez attended St. George's University School of Veterinary Medicine in Grenada, West Indies. She received her DVM degree and educated the local Grenadians on pet care, parasite control, and preventive medicine, representing Zoetis and VCA as a Student Ambassador. After graduating from veterinary school, she started general practice in Miami while continuing her education, receiving her MBA in Multi-Sector Health Management. Dr. Lopez took a position with VCA as a Medical Director for a 24-hour, 12-doctor general practice and emergency hospital in Pittsburgh, PA. She is also published in several journals, including Veterinary Dermatology and the American Veterinary Journal of Research.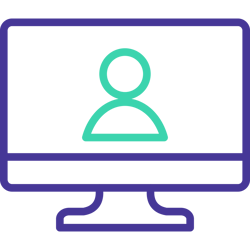 Webinar Session Details
Thursday, May 25, 2023
12:00pm - 1:00pm ET